Playing Games That Gets Results: The European "Navigate" Information Literacy Project
Mon, Mar 15, 2021 4:00 PM – 5:30 PM EET
During the webinar the most important results of the European project NAVIGATE will be presented and demonstrated. Play is the dimension identified by NAVIGATE project implemented by the University of Library Studies and Information Technologies (Bulgaria) together with partners from Italy and Sweden in order to bring higher education students closer to Information Literacy and to support the work of librarians and teachers. Join us for this interactive and engaging demonstration and vibrant discussion.
Organized by the Association of Southeastern Research Libraries in the USA. Registration here
Заключителна конференция по проект
NAVIGATE Information Literacy: A Game-based Learning Approach for Avoiding Fake Content
 Информационна грамотност: подходи за обучение чрез игри за избягване на недостоверно съдържание
 Събитието ще се проведе онлайн на 10.12.2020 г. и 11.12.2020 г.,
от 9:30 ч. до 13:00 ч., чрез ZOOM
Заключителната конференция по проект
"НАВИГЕЙТ. Информационна грамотност: подходи за обучение чрез игри за избягване на недостоверно съдържание" (2017-2020) е организирана от координатора на проекта – Университет по библиотекознание и информационни технологии УниБИТ).
Регистрация за един от двата дни можете да направите тук.
Програма за двата дни на онлайн конференцията:
NAVIGAME SERIOUS GAMES
Giochi per rinnovare la didattica
Workshop virtuale 3 Novembre 2020, dalle 14:30 alle 17:00
Organizzato da Università di Parma. Dpt. Ingegneria Architettura
Registrazione
Registrazione attraverso eventbrite
Agenda
14.30 Introduzione Navigate e Navigame
Francesco Zanichelli
15:00 Serious games
Giulia Conti
15:30 Insegnare e apprendere coi giochi: riflessioni su Navigate
Maria Valero
Elisabetta Longhi
Nicoletta Cabassi
Anna Maria Tammaro
Valeria Marro
15:45 Test dei giochi Navigame
16:30 Feedback dei partecipanti
17:00 Conclusioni
Francesco Zanichelli
I giochi Navigate al Convegno Stelline
A Milano e online, il 16 settembre 2020 dalle 14:00 alle 17:30

Mercoledì 16 settembre 2020 il progetto Navigate sarà ospite del Convegno Stelline, appuntamento fondamentale per professionisti ed appassionati in ambito bibliotecario.
Con l'occasione presenteremo in anteprima i nuovi giochi online creati dalla partnership per sostenere l'acquisizione di competenze in ambito Information Literacy.
L'iniziativa rientra nell'ambito delle INIZIATIVE COLLATERALI del convegno.
Sarà possibile accedervi sia in presenza (a Milano, presso il palazzo Stelline) che online.
L'accesso al workshop è GRATUITO, previa registrazione attraverso eventbrite (registrandosi si acquisisce il diritto di accesso a tutte le iniziative collaterali, seguirà poi un'indicazione con il link specifico per accedere alla stanza online del workshop Navigate).
Per tutti coloro che sono interessati a partecipare online abbiamo creato questo form che permetterà di ottenere l'attestato di partecipazione.
Titolo
Apprendimento basato sui giochi per l'obiettivo dello sviluppo sostenibile 4 (SDG4): colmare le lacune degli studenti sull'Information Literacy!
Relatori
Anna Maria Tammaro – Università di Parma,
Stefano Menon – Fondazione Politecnico di Milano,
Matteo Uggeri – Fondazione Politecnico di Milano,
Giulia Conti – Università di Parma
Alessia Zanin Yost – Slippery Rock University
Programma
14:00 "Information Literacy: A Game-based Learning Approach for Avoiding Fake Content": I risultati del progetto europeo NAVIGATE
14:15 L'Information Literacy ai tempi dal COVID
14:45 I serious games in classe e le training session Navigate
15:00 Costruiamo un puzzle: Usare la transliteracy come guida alle fake news
15:20 Breve pausa caffé
15:30 Anteprima: sessione laboratoriale sui giochi sviluppati da Navigate in versione beta
17:00 Condivisione dei risultati e conclusioni
17:30 Fine dei lavori
Se pensi di partecipare online, ricordati di iscriverti su eventbrite e di compilare anche il form per il rilascio dell'attestato! Se invece sarai presente al Palazzo Stelline di Milano è sufficiente l'iscrizione su Eventbrite. Potrai compilare di persona il form durante l'evento.
NAVIGAME Serious game for learning: information literacy in action! 
The second NAVIGATE Training Event hosted by the University of Parma via Zoom was held successfully! With our colleagues, partners and friends, we discussed an important topic related to the Information Literacy. We played both games developed by the Navigate team. With them we tried to improve the competencies of tutors and their potential for using Navigate's games in their courses. We collected all of their recommendations, notes, suggestions and, last but not least, their great ideas for our future work. 
Workshop with instructors: participants discussed IL games and share opinions and some good ideas
Game # 1 – testing in progress
Game # 2 – testing in progress
Special thanks to all participants in the Navigate hackathon!
NAVIGAME Remote Hackathon with Students
Our third NAVIGATE Training Event organized by University of Parma finished successfully. Students from Italy, Sweden and Bulgaria had the opportunity to meet, play and discuss the two Navigate Games. Via Zoom they tested in three groups the games and shared with each other their different points of view. They evaluated our work and provided useful feedback for further development and improvement of the two games.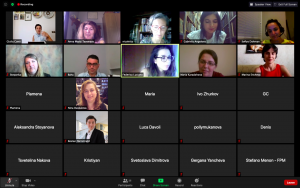 Thanks to all students from Parma, Gävle and Sofia for the great ideas!  
Third NAVIGATE Training Event, 30 June – 4 July 2020, University of Parma, Italy
The third NAVIGATE Training Event is organized as a remote Zoom hackathon.
Students will be involved in interactive sessions, and in a hands-on games test. 
The workshop has dual-purpose; it aims to (a) increase students' knowledge, competences and understanding in the field of Information Literacy (quality academic content, sources evaluation, fake news), and to (b) test the two Navigate Games, providing useful feedback for further development and improvement.  
Detailed Program: 

Second NAVIGATE Training Event, 25-29 June 2020, University of Parma, Italy
The second NAVIGATE Training Event, organized and hosted by the University of Parma, will take place via Zoom. 
This second Training Event aims to achieve improved competencies of tutors and their capability to use of Games based learning in Information Literacy  courses.
Detailed Program: 

First NAVIGATE Training Event, 12-18 January 2020, University of Gävle, Sweden
The first NAVIGATE Training Event took place in the Library/Education Centre of the University of Gävle (Högskolan i Gävle – HiG) from 12th to 18th January 2020. 
This first Training Event aims to improve the competencies of tutors (professors and librarians) from partner Universities and giving to them the capability to use the Game-Based Learning approach. The theme will focus on Game-Based Learning in Information Literacy courses and using the Games-based Model and the Games Scenarios developed by the Project NAVIGATE.
Detailed Program: 

Participants could arrive on Sunday (12 January 2020) and leave on Saturday (18 January 2020). The lectures will start on Monday 13th of January at 09.00 o'clock (lectures starts every day 09.00 Swedish local time). The lunch break will be from 12.00 to 13.00 and the afternoon lecture will finish at 17.00.
Venue 
The Library/ Education Centre of the University of Gävle address is at: Kungsbäcksvägen 47, 801 76 Gävle, Sweden. The University of Gävle is beautifully located close to the Concerthouse of Gävle River and nearby the Boulognerskogen City Park, within walking or biking distance to almost everything. It is close to the centre, between green areas and the city.
Read more about the university
Campus map of University of Gävle
Transportation
Read more
By Air
Gävle is situated 140 km (88 miles) from Arlanda International Airport. Driving Arlanda – Gävle takes about one hour and a half. Going by train is easy and comfortable and takes just about 60 -90 minutes.
By Car
Gävle is situated at the East coast, right by the E4 and just where Highway 80 and 76 come together. Driving Stockholm – Gävle takes about 2 hours. Highway 80 and 68 are rapid routes directly from the country's Western and Central parts.
Car Rentals
Hertz – Website in English
Europcar – Website in English
Hyrbilen – Website in English
Avis – Website in English
OkQ8 – Website
By Train
Gävle has very good train connections. Going by train Stockholm – Gävle takes about 80 minutes. For train tickets and time tables, go to:
SJ – Website in English
Bus to other destinations
There are bus connections to numerous Swedish destinations. Bus transports on the route Gävle – Stockholm is provided several times a day:
Sgsbussen – Website
Swebus – Website in English
Local transportation by bus
Within Gävle, it's both easy and convenient to use the local buses (provided by X-trafik).  For information, time tables, prices and maps, go to:

Alternatives to get to the university:
Bus number 15 (bus stop on the west side of the station)
Line 15, Gävle public transport (X-trafik). It operates on the distance Gävle railway station – Stortorget (centre) – University – Technology Park (Teknikparken) – Hospital – Sätra. The trip from Gävle C to the university takes about 10 minutes.
On the bus you pay by cash, by credit card or via an app on your smartphone. Cash and credit card is more expensive.
You can by a bus card at the Student centre at the university.
Accommodation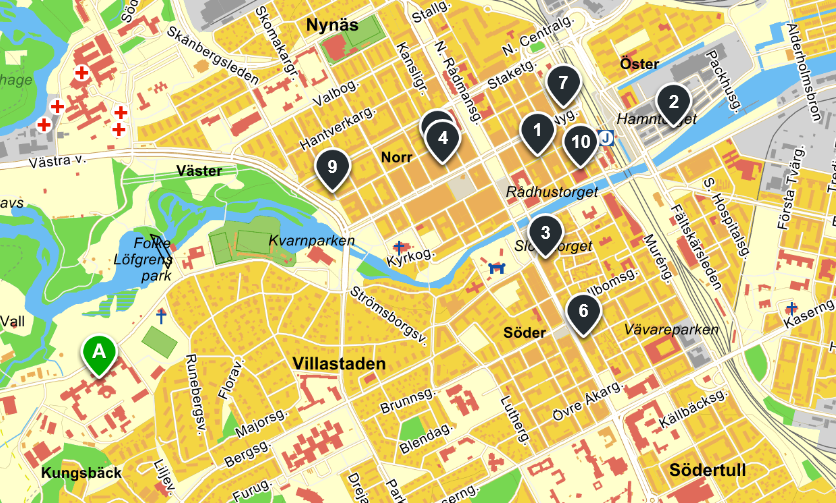 Mrs. Ingela Östlund, IKT Samordnare/ICT Coordinator
E-mail:
Ingela.Ostlund@hig.se
Telefon/Phone: 026-64 50 89
Mobil/Cell: + 46 (0)73 945 79 09
Högskolan i GävleSE – 801 76 Gävle, Sverige/Sweden
---

NAVIGATE @ OEB Global
NAVIGATE project will have a presentation at OEB Global conference on technology supported learning and training. OEB Global, incorporating Learning Technology, has a unique, cross-sector focus, fostering exchange on the use of new technologies in learning and training in the corporate, education and public service sectors.OEB 2019 will take place in Berlin, Germany from 27th to 29th of November 2019.
Let's meet us there : we will demonstrate  the NAVIGATE Framework for Information Literacy Game Design. It is elaborated to help the multidisciplinary teams in different educational institutions to face the challenges in developing games by supporting them through easy-to-apply methodology during the pre-production phase of the serious game design. The title of our intervention is:  " How Games Can Design Our Capacity to Be Active Citizens: The (Almost) Hidden Role of Information Literacy ". For more information, you can have a look  here .