First NAVIGATE Training Event, 12-18 January 2020, University of Gävle, Sweden
The first NAVIGATE Training Event will take place in the Library/Education Centre of the University of Gävle (Högskolan i Gävle – HiG) from 12th to 18th January 2020. 
This first Training Event aims to improve the competencies of tutors (professors and librarians) from partner Universities and giving to them the capability to use the Game-Based Learning approach. The theme will focus on Game-Based Learning in Information Literacy courses and using the Games-based Model and the Games Scenarios developed by the Project NAVIGATE.
Detailed Program: 

Participants could arrive on Sunday (12 January 2020) and leave on Saturday (18 January 2020). The lectures will start on Monday 13th of January at 09.00 o'clock (lectures starts every day 09.00 Swedish local time). The lunch break will be from 12.00 to 13.00 and the afternoon lecture will finish at 17.00.
Venue 
The Library/ Education Centre of the University of Gävle address is at: Kungsbäcksvägen 47, 801 76 Gävle, Sweden. The University of Gävle is beautifully located close to the Concerthouse of Gävle River and nearby the Boulognerskogen City Park, within walking or biking distance to almost everything. It is close to the centre, between green areas and the city.
Read more about the university
Campus map of University of Gävle
Transportation
Read more
By Air
Gävle is situated 140 km (88 miles) from Arlanda International Airport. Driving Arlanda – Gävle takes about one hour and a half. Going by train is easy and comfortable and takes just about 60 -90 minutes.
By Car
Gävle is situated at the East coast, right by the E4 and just where Highway 80 and 76 come together. Driving Stockholm – Gävle takes about 2 hours. Highway 80 and 68 are rapid routes directly from the country's Western and Central parts.
Car Rentals
Hertz – Website in English
Europcar – Website in English
Hyrbilen – Website in English
Avis – Website in English
OkQ8 – Website
By Train
Gävle has very good train connections. Going by train Stockholm – Gävle takes about 80 minutes. For train tickets and time tables, go to:
SJ – Website in English
Bus to other destinations
There are bus connections to numerous Swedish destinations. Bus transports on the route Gävle – Stockholm is provided several times a day:
Sgsbussen – Website
Swebus – Website in English
Local transportation by bus
Within Gävle, it's both easy and convenient to use the local buses (provided by X-trafik).  For information, time tables, prices and maps, go to:

Alternatives to get to the university:
Bus number 15 (bus stop on the west side of the station)
Line 15, Gävle public transport (X-trafik). It operates on the distance Gävle railway station – Stortorget (centre) – University – Technology Park (Teknikparken) – Hospital – Sätra. The trip from Gävle C to the university takes about 10 minutes.
On the bus you pay by cash, by credit card or via an app on your smartphone. Cash and credit card is more expensive.
You can by a bus card at the Student centre at the university.
Accommodation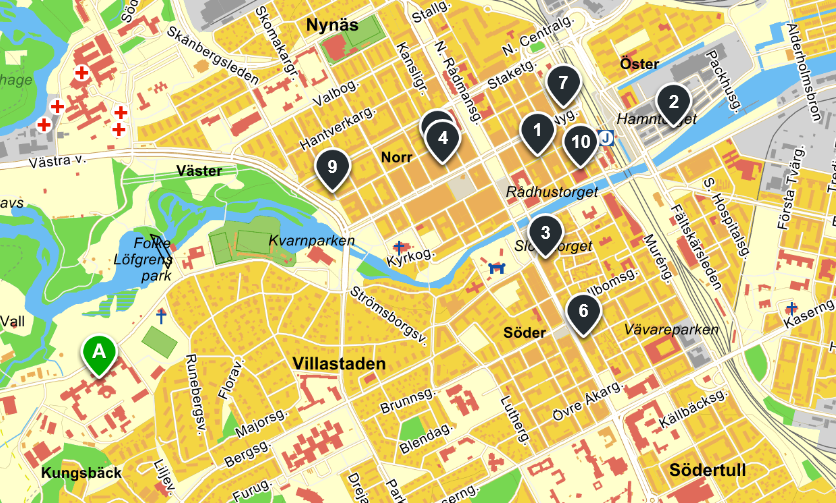 Mrs. Ingela Östlund, IKT Samordnare/ICT Coordinator
E-mail:
Ingela.Ostlund@hig.se
Telefon/Phone: 026-64 50 89
Mobil/Cell: + 46 (0)73 945 79 09
Högskolan i GävleSE – 801 76 Gävle, Sverige/Sweden
---

NAVIGATE @ OEB Global
NAVIGATE project will have a presentation at OEB Global conference on technology supported learning and training. OEB Global, incorporating Learning Technology, has a unique, cross-sector focus, fostering exchange on the use of new technologies in learning and training in the corporate, education and public service sectors.OEB 2019 will take place in Berlin, Germany from 27th to 29th of November 2019.
Let's meet us there: we will demonstrate the NAVIGATE Framework for Information Literacy Game Design. It is elaborated to help the multidisciplinary teams in different educational institutions to face the challenges in developing games by supporting them through easy-to-apply methodology during the pre-production phase of the serious game design. The title of our intervention is: "How Games Can Design Our Capacity to Be Active Citizens: The (Almost) Hidden Role of Information Literacy". For more information, you can have a look here.